Pressure treated wood decks in our climate and region tend to start really showing their age after 10+ years. On average, our customers start complaining about splinters, deep cracks and overall roughness at about the deck age of 15 years. They come to us and say HELP!
Remodeling vs Restoration
If your deck flooring is showing signs of aging what are your options?
The basics of deck restoration include cleaning, crack-clearing, sanding, and re-staining. When this process just isn't enough, it may be time to consider remodeling.

Deck restoration is a great option when it's possible, but what about when there's significant wood rot, cracking or splintering? Once a deck requires more than about 20% of deck board replacement, remodeling is usually more cost-effective, and adds more value. It's like giving your deck a face-lift.

When remodeling a deck, we typically remove all the flat (horizontal) boards, including the floor, stair treads, and hand-rail caps and replace it with new top-quality ground-contact rated lumber or composite decking material. We also check the framing and make minor adjustments as needed, inspect connections between the deck and house, and replace trim, railings, and other components as needed. This option isn't cheap in comparison to restoration, but the cost is usually about a third of replacing the deck entirely.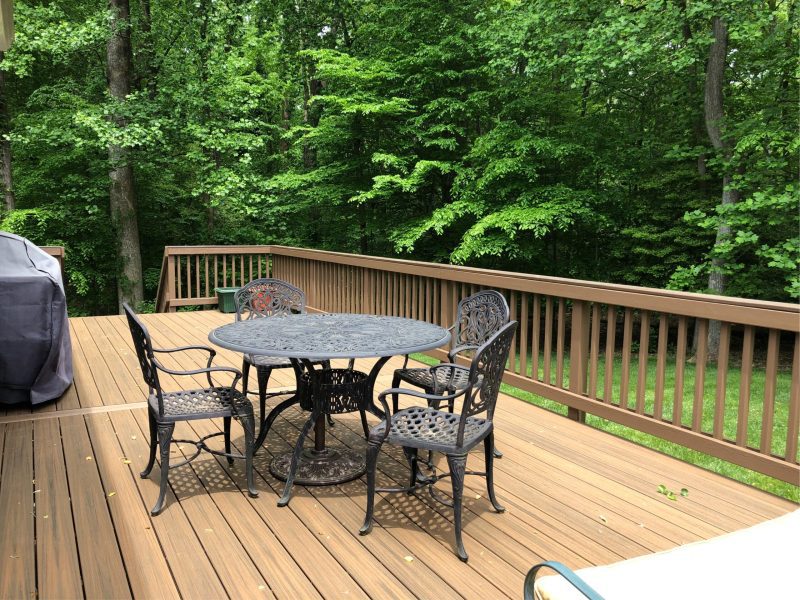 Given your deck is healthy, "breathes" well and is free from decay fungus (aka wood rot), the other alternative is what we call our "Heavy Duty Acrylic Coating" or Re-surfacing approach. Now we've all seen the new products emerge in recent years like "Restore" by rust-oleum or "Deckover" by Behr. These products are more or less designed to cover up or "fill in" rough surfaces, lock down splinters and give a more "walkable" surface than before.
There are many more companies now offering products to sell to this market and it's interesting to watch as everyone is stampeding to sell product or service to this new trend. Many of these manufacturers and installers are giving impressions that the use of these products will ensure a life of up to 10+ years with no or little maintenance.
The We Restore Decks Approach
We Restore Decks takes a more scientific approach to this whole deck resurfacing option and instead of claiming that our product is going to do all the magic, we understand (and hopefully relay that information to you) that good surface preparation is more than half the battle in obtaining a quality deck resurfacing. Of course, we have done our research and only use top quality products that are proven AND that contain the proper ingredients for the project at hand but we go above and beyond that by making sure that we lay the foundation first before applying product to your wooden deck.
Sometimes the best option is to sand the deck smooth (if possible of course) and then start over with a nice staining that is maintainable and simple to do. We never know until we see your deck.
Is this option right for you?
Be aware of anyone who recommends an acrylic deck resurfacing who does not first think about your overall deck environment and consider all elements such as: Sun exposure, air movement under and between the decking boards, tendency for moisture development and overall deck usage by pets and humans. Without thinking of these things first, how can they possibly make a good recommendation as to which process you would most benefit from?
Just read the reviews online from homeowners who have used these products with disastrous results. Page after page you will find negative reviews about their deck pealing or product failing in less than one year. Our belief is either that: A. the surface did not get prepped properly and or timing/ weather was off. Or B. the environment is not suitable for the product or process. Either way, this type of analysis needs to be taken into consideration when thinking of a deck make-over with a heavy acrylic coating.
✓ We Restore Decks will analyze your deck and its environment and will only recommend this level of service if we feel you will benefit from it in the long run. It's plain and simple; we take your deck restoration seriously and treat every project as if it was our own.

✓ With plenty of colors and options to beautify your outdoor space give us a call today for a free consultation. We will wow you with our knowledge and passion for wood.